Buckhorn Mountain Boys
This section contains information about the Buckhorn Mountain Boys, a 4-piece bluegrass band perfect for parties or special events with a country flair.
The BUCKHORN MOUNTAIN BOYS were first organized in 1976 in Forest Grove Oregon by band leader Al Jackson, and became one of the more popular bands in the Portland area. The original band consisted of Al Jackson, mandolin and vocals; Tom Sheppard, guitar and vocals; Bob Callaway, banjo; Warner Sankman, dobro and vocals; and Spencer Moores, bass.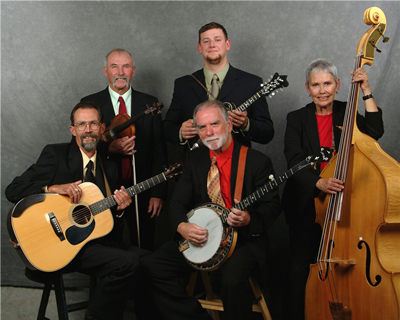 As is the case with most bands, members come and go and some of the other fine musicians that were members over the next four years included, Larry White, Bert Sperling, James Mason, Randy Oman, Dave Elliot, and Greg Baker. In 1980, BMB disbanded as Al Jackson and his family moved to Idaho to pursue a career in radio broadcasting; however, that did not leave much time for playing music. After several years, Al retired from radio and brought the Buckhorn Mountain Boys back to life in 2002. This time around, the band consisted of members with a great deal of bluegrass playing experience and a "passion" for the music. The new line-up included, Al Jackson, guitar, mandolin and lead vocals; Mike Bond, banjo and vocals; Rue Frisbee, fiddle, guitar and vocals; and Marv Quinton, bass and vocals.
Al, Mike and Rue had played together from time to time in some other area bluegrass bands since 1982 and Marv played with "Southfork" and other bands in the Idaho Falls area before moving to Boise. In November of 2003, Marv left the band to move to Alaska and soon after Mike's wife, Donna Bond, joined the band on bass and vocals. The newest member of BMB is Nathan May who plays mandolin. He brings a youthful perspective to the band with alot of drive and energy.
The Buckhorn Mountain Boys released their debut CD, "Take the Backroad Home", in 2003, which recieved not only local but also some national and international radio airplay. The CD has also been sold throughout the U.S. Canada and overseas. BMB released their 2nd CD, "LIVE, warts and all", in 2004.
BMBs newest CD release is titled "ONE MORE RIVER" and features songs from Idaho and Northwest regional songwriters.
The Buckhorn Mountain Boys have made several television appearances in the Boise area including "Ada After Hours" and "Boise City Limits" on Boise public access television and "An Idaho Family Christmas" special on KTVB in Boise.
Some of BMB's highlights so far include, opening for the Del McCoury band, and being selected as one of the Top 5 Bands in Boise for 2004 by the Boise Weekly Magazine. The Buckhorn Mountain Boys have appeared at numerous Fairs and Festivals including the prestigious Darrington Bluegrass Festival in Washington, and have developed a very strong following of bluegrass music fans.
The Buckhorn Mountain Boys pride themselves on playing traditional based bluegrass music but have also developed their own unique sound. They have been described as playing "traditional bluegrass with an original flair". Each member of BMB has spent years playing bluegrass music and that knowledge has helped them perfect their own signature sound.They shape that sound by blending voices and instruments through smooth transitions, rapid-fire licks and stunning instrumentals. Bluegrass Now magazine says, "their music is new and should gain the band a great deal of attention". Bluegrass Unlimited says, "One More River clearly establishes them as the State of Idaho's premier bluegrass band".
For booking inquiries, quotes or other information, please click on the following link:

You may also contact us directly at:
Musicians Contact Service of Boise
c/o Jim McMillan
3902 N. Burnstead Place
Boise, ID 83704
(208) 841-0441 (cell)
(208) 375-1112 (home
email: jim2@boisebands.com